I purchased this Turkish M38 Mauser for $50 plus shipping. The receiver is dated 1941 but I suspect it has been refurbished at least once since then because of its excellent condition. The Bluing is 95% and the bore is bright and shiny. I stripped and lightly sanded the stock then applied four coats of tung oil to restore the finish.
While not as accurate as some of my rifles, for a 62 year-old rifle shooting 60 year- old ammunition, it shoots good. I can generally get 3-4 inch groups at 100 yards.
Background
The Model of 1938 isn't really a single model, but rather a common set of features. The Turkish Republic updated many of their old rifles to a common configuration, the Model of 1938 in 8x57 Mauser. As they became isolated during WWII, they began assembling their own rifles from accumulated parts. While little is publicly known about this, it appears that all Turkish assembled rifles are marked K. Kale, for the arsenal where they were assembled.
Specifications

Caliber:
7.92 X 57mm (8mm Mauser)
Overall length:
49 inches
Barrel length:
29.1 inches
Weight (unloaded)
9.2 lbs.
Magazine:
5 round, charger loaded, staggered column box
Sights:
Front: Inverted V-blade Rear: V-notch tangent leaf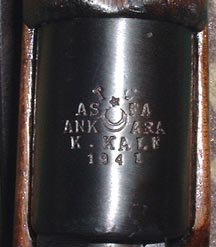 Turkish crest on the receiver
| Home |
Russian M91/30 | Finnish M39 | Russian M38 | Yugoslavian SKS | Chinese SKS | Yugoslavian M48 | Turkish M38 | Swiss K31 | US M1 Garand | Romanian M69 | Ammunition | Links